Don't get discouraged by the cold weather, get inspired!
Comfortable, casual, and chic are a must for us Jewish women on-the-go when it comes to our everyday wear.  Let's face it, we need the 3 C's! Check out my pick for the outfit that best personifies this practical, yet fabulous style.
Take your favorite black skirt and pair it with a staple white or black long sleeve shell and a chunky sweater.
Spice it up with a funky hat of your choice. MavenMall has a great assortment to choose from!  Whether it's embellished with rhinestones or a flower, or just a textured fabric, we have it all!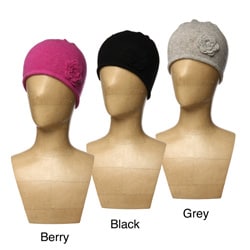 The look is effortlessly flawless!
All featured items can be found at MavenMall.  Get the complete look here, MavenMall.com.
Would you wear this outfit on a cold winter day?
Stay warm in Style!
Miri
Miri@MavenMall.com